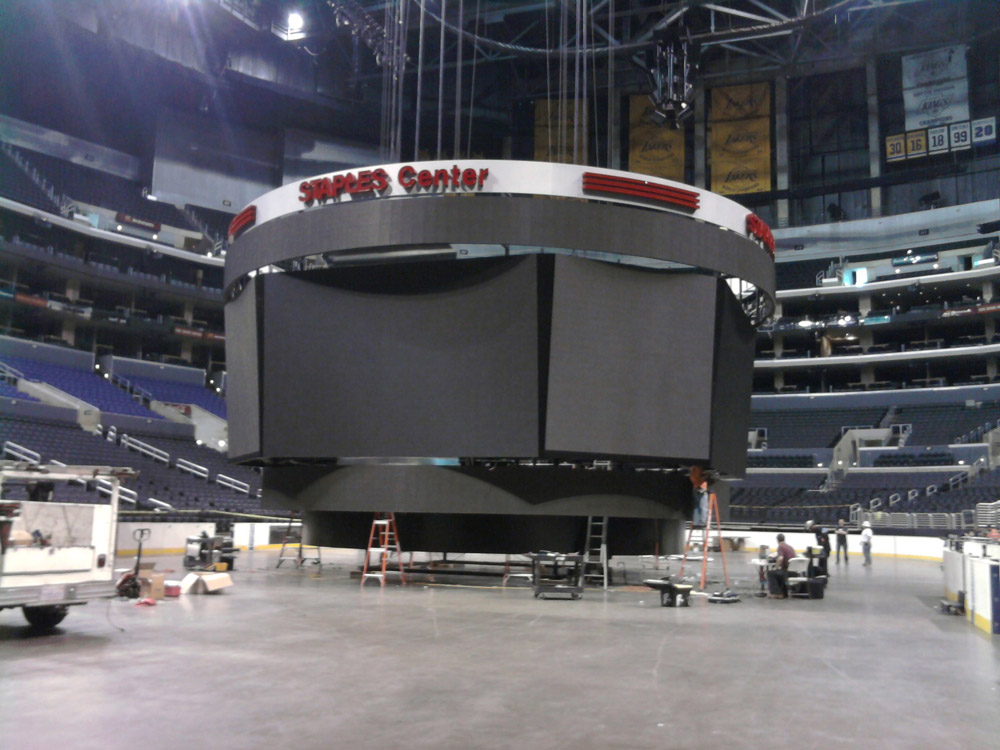 Cable Installation at Staples Center
One of our high profile locations was to assist final fiber optic cable installation and troubleshooting at the Staples Center in Los Angeles, home of the World Champions LA Lakers, Clippers, Kings, and Avengers.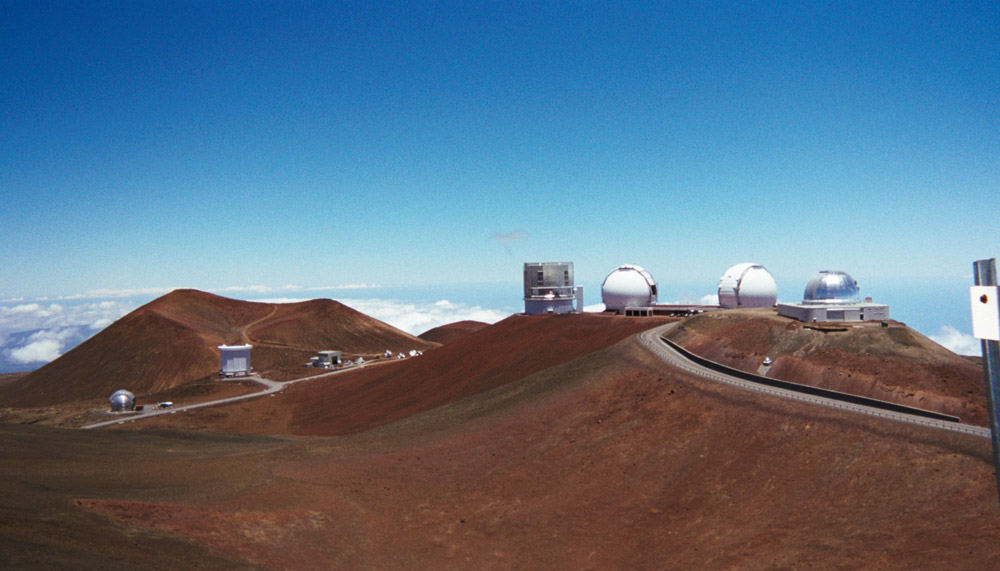 Unique Environment
We have also done projects in unique or "foreign" environments. This is a famous extinct volcano in Hawaii where we did high altitude fiber fusion splicing. Not many fusion splicers work at this altitude and in fact we had to tweak and shim the electrodes to get the splicing done.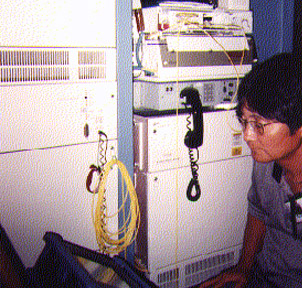 OTDR in Hawaii
Here we are working on long haul fiber going between islands in Hawaii. Not many testers can do OTDR, optical return loss, insertion loss, polarization mode dispersion, and optical spectrum analysis in a single unit. Thanks to Glenn Takahashi of GTE Hawaiian Telephone for being in our picture. We provided complete fiber documentation for this project consisting of OTDR traces, PMD readings, ORL readings, and detailed insertion loss data for the 1550 nm wavelength.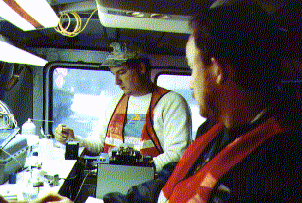 Cerritos Project
This goes back to 1989 where we assisted introducing the first mass fiber fusion splicer to the GTE folks on the Cerritos Project. See Paul Raine hard at work. This new technology required forming 12 fiber ribbons from the individual loose tube fibers and then fusing 12 fiber ribbons together. We had visitors from Japan assisting on this project, showing a significant improvement in the time to splice high count fiber cables together.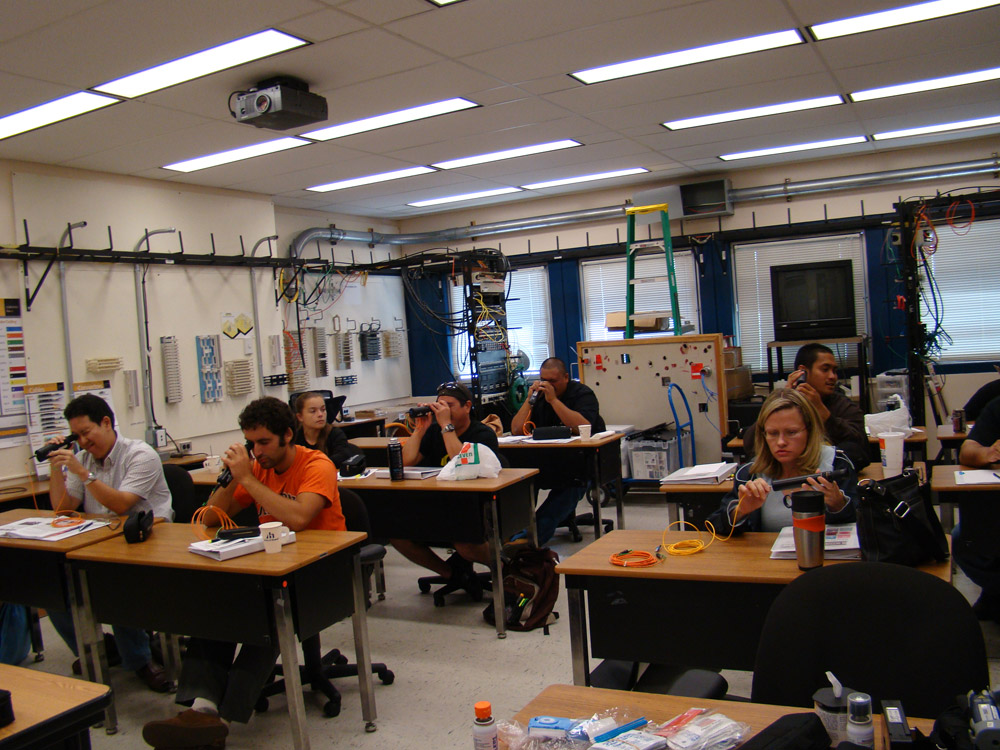 Fiber Optic Training
Another of our successful programs is fiber optic hands on training. It can be a two or three day course. Theory, fiber optic background information, equipment hands on, and a short examination are part of the course. We've been doing this class for the past 20 years, including customers such as City of Los Angeles, DOA; Pacific Bell; GTE; City & County of Honolulu; State of Hawaii, DOE and DOT/H3.
Manufacturers and Customers References List
Splicing, Testing and Training
Alcoa Fujikura, Ltd.,
Spartanburg, SC

Technical capabilities for fusion splicing of single fibers or ribbon/mass fusion splicers; technical assistance for specialty cable installation, ADSS, OPGW, etc.; 12 years

City and County of Honolulu, Data Systems Department,
Honolulu, HI

Two 3 year contracts for supplying fiber optic cables, equipment, and supplies; 1987 through 1993; on going relationship for equipment and supplies

Axxis Network & Telecom,
Woodland Hills, CA

Major installations at several Metropolitan Water District facilities, Los Angeles Police Department; numerous joint projects as supplier, fiber optic technical consultant with field support, training on splicing and testing; on going since 1994

INTEC (formerly ISTC),
Pearl Harbor, HI

Contractor to other military branches for communications network installation and training around the Pacific Rim and Hawaii; Supplier, fiber optic training services, technical consulting assistance for numerous projects in Guam, Japan, Korea, Diego Garcia, etc.; on going since 1992

Lynch Communications,
Riverside, CA

Metropolitan Water District, City of Anaheim, Cox Cable and numerous other projects; supplier, training, technical consulting and support; ongoing since 1994

Obie/Westsun,
Los Angeles, CA

Staples Center, Los Angeles, termination and testing of fiber optic cables installed throughout the new arena for video and voice communications; consulting and troubleshooting services; 1999

Mangan, Inc. & UNOCAL Indonesia,
Los Angeles, CA

Troubleshooting and repair of damaged fiber optic cables in Jakarta, Indonesia; 1997

Optical Cable Corporation (OCC),
Roanoke, VA

Fiber optic technical knowledge, consulting, field services, testing, etc; 13 years.

University of Hawaii, Institute for Astronomy,
Honolulu, HI

Adverse conditions fiber optic splicing and testing at 14,000 ft altitude to connect FDDI LAN ring and telescopes for all existing and future observatories; 1991 through 1995

Kingston Constructors,
San Francisco, CA

San Francisco Muni Rail Project, 1998; Emergency Radio Project, 1999; Consulting services, installation, splicing, troubleshooting, testing and repair of fiber optic cables in train tunnels, jail, Moscone Center, SF

Preformed Line Products (PLP),
Cleveland, OH

Prime reference for fiber optic technical capabilities and knowledge; field, on the job technical skills; 1987 through present

Energy Management Engineering,
La Verne, CA

Supplier, splicing and testing at McCarron Airport, FAA installation Las Vegas, FAA Van Nuys Airport CA, and Burbank Airport, CA; 1994 through present

Tektronix,
Beaverton, OR

Technical capabilities fiber optic test equipment, copper test equipment, video test equipment, general test and measurement; 5 years

Kaneohe Marine Corp Base,
Kaneohe, HI

Basewide fiber optic network cabling project; supplier, fiber optic training course, technical assistance, 1996/97

Telecable Systems,
Kailua-Kona, HI

Supplier, technical consultant and support, training; numerous joint projects for major customers such as State of Hawaii, HTS and DOE, military installations, CATV (Jones, Chronicle, Kauai, Sun, Garden Isle, etc.), GTE Hawaiian Tel, etc., major hotels; ongoing since 1991

City and County of Honolulu, Dept. of Transportation,
Honolulu, HI

Numerous large contracts for State of Hawaii/Federal Govmt/City and County transportation projects (1987 through current); training services for City and County construction crews teaching installation, splicing, testing and troubleshooting; continuing engineering and technical support

GTE of California,
Thousand Oaks, CA

Fiber optic technical capabilities, installation, testing, training, splicing; 15 years

EXFO Electro Optical Engineering,
Quebec City, Canada

Technical capabilities for testing of fiber optic systems using OTDR's, powermeters, light sources, etc.; 14 years.